Overview of Services
FIMM Single-Cell Analytics (SCA) unit develops and provides open-access single-cell transcriptomics and genomics services nationally and internationally. Our unit collaborates closely with the FIMM Genomics Sequencing unit as well as with the FIMM Technology Centre IT Services, Digital Microscopy and Molecular Pathology unit and FIMM HiPREP unit.
Sign in to browse Single-Cell Analytics services and to submit a service request.
FIMM Single-Cell Analytics is a non-profit academic core facility. We are part of HILIFE and Biocenter Finland Single-Cell omics networks.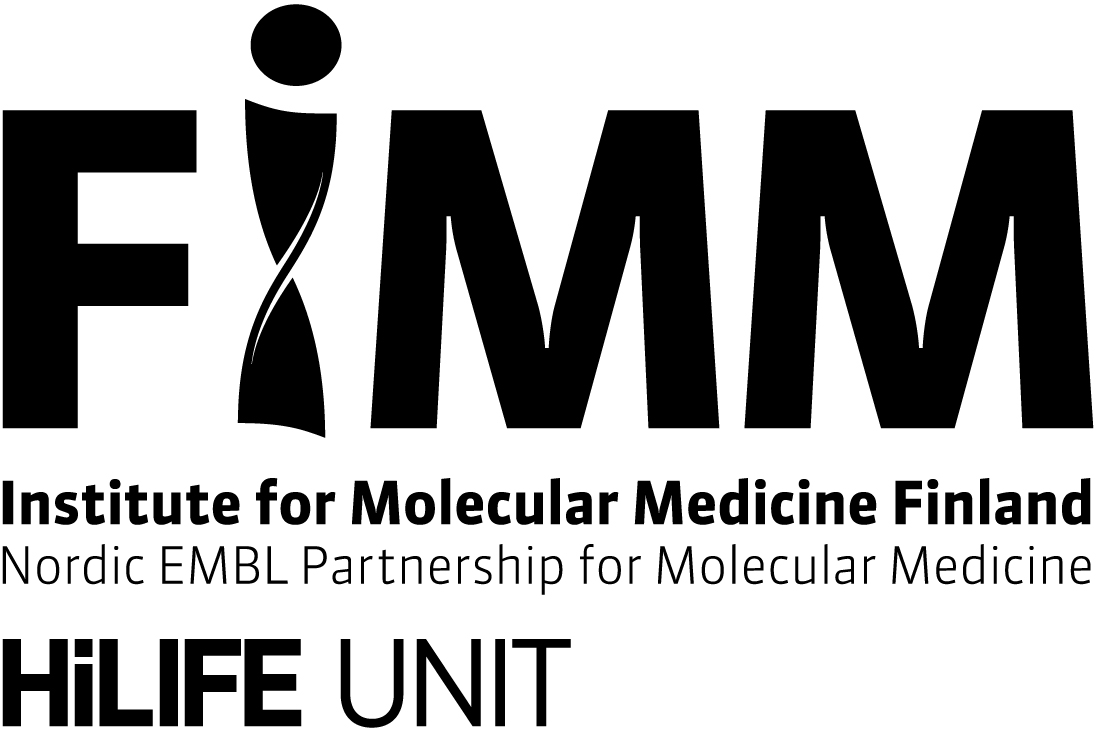 Login Credentials

HAKA federated authentication.
Preferred way to login to FIMM Single-Cell Analytics Core iLAB is to use HAKA authentication. HAKA is the identity federation for the Finnish univerities and research institutes. HAKA is operated by CSC.
iLAB user account
When your host institution is not a member of HAKA identity federation click 'Register' and we'll create you the credentials for accessing iLAB Core Facility management system. These iLAB credentials are separate from your host organization.
Leadership
Jenni Lahtela
Head of Unit


Contact

Jenni Lahtela, Head of Unit, Tel: +358 50 319 8725, E-mail: jenni.lahtela@helsinki.fi

Anna Näätänen, Single Cell Laboratory Coordinator, Tel: +358 50 5188196, E-mail: anna.naatanen@helsinki.fi

Janika Sirjala, Single Cell Laboratory Coordinator, Tel: +358 50 4799276, E-mail: janika.sirjala@helsinki.fi

Emma Saarinen, NGS Expert, Tel: +358 50 3185062, E-mail: emma.a.saarinen@helsinki.fi

Anette Holmström, Spatial Transcriptomics Laboratory Coordinator, Tel: +358 50 4787860, E-mail: anette.holmstrom@helsinki.fi

Bishwa Ghimire, Bioinformatician, Tel: +358 50 3112564, E-mail: bishwa.ghimire@helsinki.fi
Location and hours of operation
Hours
Location

Monday-Friday

Biomedicum Helsinki 2U
Tukholmankatu 8
Helsinki, 00290



Links and Resources
Search available services:

View: by category alphabetically
►

10X Genomics Chromium services (13)
Name
Description
Price

Automated Chromium run and Next GEM Chip G

Inquire

Chromium Fixed RNA Profiling Library Prep for 4-plexed Samples

Inquire

Chromium Next GEM Automated Single Cell 3ʹ Library v3.1

Inquire

Chromium Next GEM Single Cell 3' Gene Expression v3.1 Library Prep

Inquire

Chromium Next GEM Single Cell 5' Gene Expression v2 Library Prep

Inquire

Chromium Next GEM Single Cell Multiome ATAC + GEX Library Prep

Inquire

Chromium Next GEM Single Cell V(D)J Enriched v2 Library Prep

Inquire

Chromium Run

Inquire

Chromium run and Chromium Next GEM Chip G

Inquire

Chromium run and Chromium Next GEM Chip H

Inquire

Chromium run and Chromium Next GEM Chip J

Inquire

Chromium run and Chromium Next GEM Chip K

Inquire

Chromium Single Cell 5' CRISPR Screening Library Prep

Inquire

►

10X Genomics Visium services (3)
Name
Description
Price

Visium Spatial for FFPE Gene Expression Library Prep, H (1 slide, 4 samples)

Inquire

Visium Spatial Gene Expression Library Prep (1 slide, 4 samples)

Inquire

Visium Spatial Tissue Optimization

Inquire

►

Custom services (2)
Name
Description
Price

ADT- and HTO-Library Prep

Sequencing library prepared from oligo conjugated antibody tag cDNA
Antibody Derived Tag, ADT,
Hashtag oligonucleotide, HTO

References:

Cellular indexing of transcriptomes and epitopes by sequencing (CITE-seq)

Stoeckius et al. 2017 Nature Methods

Cell Hashing with barcoded antibodies

Stoeckius et al. 2018 Genome Biology


Library preparations done as described in TotalSeq™-A Antibodiy and Cell Hashing Library preparation.

Inquire

CROP-seq Library Prep

CRISPR droplet sequencing (CROP-seq)

Single-cell RNA-seq as a readout for CRISPR-based pooled genetic screens. The single guide RNA (sgRNA) in each cell is identified together with its transcriptome by capturing the sgRNA within a Pol II transcript.

References:

Datlinger P et al. 2017 Nature Methods

Hill AJ et al. 2018 Nature Methods

Library preparations done as described in
https://github.com/shendurelab/single-cell-ko-screens

Inquire

►

Mission Bio Tapestri services (3)
Name
Description
Price

Tapestri Single-Cell DNA Hematology Panel

Inquire

Tapestri Single-Cell DNA Library Prep

Inquire

Tapestri Single-Cell DNA Solid Tumor Panel

Inquire

►

SCA Data Analysis Services (1)
Name
Description
Price

Single-cell Analytics Bioinformatics services

Inquire

►

cellenONE services (1)
Name
Description
Price

cellenONE single-cell dispensing

Inquire
Available Equipment and Resources
| Name | Price |
| --- | --- |
| FIMM SCA cellenONE Single-Cell dispensing Reservation | View calendar |
| FIMM SCA Chromium Single-Cell Analysis Reservation | View calendar |
| FIMM SCA Tapestri Single-Cell Analysis Reservation | View calendar |